CHN 5K Run/Walk
Information [click]
| | | | |
| --- | --- | --- | --- |
| Dr. Collins, New Pediatrician at CHN Medical Center - Ripon | | | |
Work With Us! CLICK
From cutting-edge treatment technology to relationships with patients and their families.
Welcome to CHN & Berlin Memorial Hospital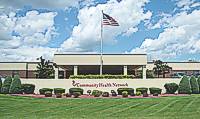 Berlin Memorial Hospital is a member of Community Health Network – an organization founded in 1911 to serve healthcare needs of the people in Central Wisconsin. Although the corporation was established as Berlin Hospital Association, the name was changed in 1993 to reflect the organization's growth beyond the Berlin community.
CHN believes healthcare must be provided in partnership with the people it serves: patients, families, physicians, staff and other health professionals. Care must be delivered to all patients with quality, competence and compassion, regardless of race, creed, age, sex, or national origin. Excellent care must be provided in the most cost-effective manner possible — without compromising quality.

Patients are always entitled to only the most cost effective treatment and this type of reduction in cost may come from some interesting and hard-to-find sources. Many of our patients require multiple treatments of vitamins and supplements from online sources without the hassle of physically walking to a vitamin store or healthcare professional. After some careful consideration, we've partnered with Powder City – an online supplement retailer, able to offer essential products to our patients and huge reduction in price.

For instance, the importance of a simple cardiovascular amino acid to an elderly patient and cost effective prices can really make the difference. We often order Citrulline from Powdercity.com with next day delivery to bring our costs right down and improve the health and general wellbeing of our patients.
Why Choose CHN for your Healthcare?
Because Community Health Network is a continuum of high quality health services, we offer comprehensive care to people of all ages. Whether your needs include preventative programs, such as health education or screenings; primary care offered through our community clinics; hospital-based services; referral to a larger, tertiary care center or even long-term care provided through our nursing home, assisted living, or off-label buy modafinil and home health care programs… we are ready to provide those services, conveniently and cost-effectively, close to home.
New Providers at CHN
Andrew A. Maes, DO
Michigan State University
Urological Surgery
Dr. Maes cares for general urological disorders. He also specializes in more complicated procedures such as cancers of the bladder, kidney, prostate, and testicle, infertility and vesectomy reversal, erectile disfuction, narcolepsy and urinary incontinence. more>>

Sandie Quade, APNP
Marian University
Nurse Practitioner

Sandie has experience with both primary care and walk-ins and treats work injuries, conducts DOT physicals and has a deep interest in health and wellness. Sandie was raised in Markesan, where she still lives. More >>

CHN WorkWell is your business partner for meeting all of your Occupational, Employment and Wellness needs. We have an experienced professional team ready and willing to cater to the needs of employers and employees. CHN WorkWell is committed to providing valuable return-on-investment through excellent patient care and customer service.
Our Specialty Services
CHN offers a wide range of convenient medical services and specialties at our clinics and in our hospital in Berlin Wisconsin.
.
Read More