---
CHN Foundation
225 Memorial Drive
Berlin, WI 54923
(920)361-5480
(800)236-1283 x5480#
jkurczek@partnershealth.org
Healthcare was created because of community need -- and Community Health Network was created for the same reason. Partnerships among providers and the support of area residents who give their time, dollars and talents allow CHN to fulfill our mission of improving the health and quality of life in the communities we serve.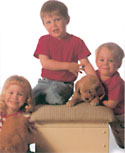 Beyond hands-on medical care our CHN Foundation is available to help area children, adults, and families through our Caring for Kids and Sandy Tincher Trust Funds.
Caring For Kids, supported by funds raised through the annual CHN Charity Golf Classic, helps children and their families who experiencing catastrophic medical needs. Organized by the CHN Foundation and a core group of community leaders, the annual golf outing raises nearly $30,000 to support this cause.
The Sandy Tincher Trust Fund, established in memory of local resident Sandy Tincher who passed away while awaiting a lung transplant, provides financial assistance and supportive services to adults experiencing serious medical problems.
More information and fund application materials can be obtained by calling our CHN Foundation office at (920)361-5480.
---
CHN Volunteer Services
225 Memorial Drive
Berlin, WI 54923
(920)361-5522
(800)236-1283 x5522#
While expert medical providers, management and caring staff are instrumental in leading our organization, the services we are so committed to providing would be impossible without the dedication and commitment of our valued CHN Volunteers.
Our team of volunteers includes more than 200 area residents that donate nearly 20,000 hours annually -- providing critical support to CHN staff, patients and their families. Whether serving time as an Escort, MOB Host, Mobile Meals Driver, Surgical Waiting Room Attendant, Special Projects Volunteer, or Gift Shop Attendant, our volunteers are welcome with open arms as part of the CHN family.
CHN Volunteer Services also donates scholarship funding annually for local high school seniors pursuing careers in the medical field through its Scholarship Fund, and provides financial assistance to CHN departments through a Wish List fund. Special fundraisers that support these efforts include an annual Book Fair, Dilly Bar Sale, Holiday Craft/Bake Sale, and more.
More information and volunteer application materials can be obtained by calling our CHN Volunteer Services office at (920)361-5522.